---
Product Details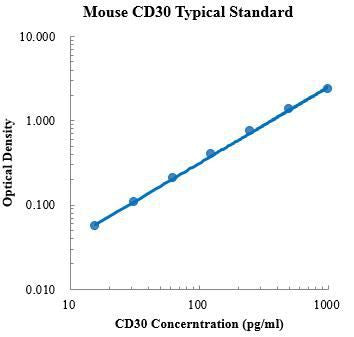 Factory Name
MultiSciences
Product Code
70-EK2311-96
CatNum
EK2311-96
Product Name
Mouse CD30/TNFRSF8 ELISA Kit
Customs Name
Mouse CD30/TNFRSF8 ELISA Kit
Product Spec
96T
SalePrice
3200
Type
ELISA Kit
Application
ELISA
Reactivity
Mouse
Modality
NoData
Assay Type
Sandwich ELISA
Suitable Sample Type
serum, plasma, cell culture supernates
Format
96-well strip plate
Storage
4℃ (unopened) standard stored at -20℃, others stored at 4℃ (opened)
Shipping Condition
4℃
Sensitivity
0.88 pg/ml
Standard Curve Range
15.63 - 1000 pg/ml
Spike Recovery Range
92%-118%
Mean Spike Recovery
106%
CV of Intra plate
3.5 % - 4.7 %
CV of Inter plate
1.1 % - 2.8 %
Components

96-well polystyrene microplate (12 strips of 8 wells) coated with an antibody against mouse CD30

Mouse CD30 Standard, lyophilized

CD30 Detect Antibody

Standard Diluent

Streptavidin-HRP                                                                                           

Assay Buffer (10×)

Substrate

Stop Solution

Washing Buffer (20×)

Adhesive Films

PRINCIPLE OF THE ASSAY

Mouse CD30/TNFSF8 ELISA Kit is based on the quantitative sandwich enzyme-linked immunosorbent assay technique to measure concentration of mouse CD30 in the samples. An antibody specific for mouse CD30 has been immobilized onto microwells. Standard or samples are pipetted into the wells, followed by the addition of biotin-linked detect antibody specific for CD30, and CD30 present is bound by the immobilized antibody and detect antibody following the first incubation. After removal of any unbound substances, streptavidin-HRP is added for a second incubation. After washing, substrate solution reacts with HRP and color develops in proportion to the amount of CD30 bound by the immobilized antibody. The color development is stopped by addition of acid and the optical density value is measured by microplate reader.

Describtion

CD30, also known as Tumor necrosis factor receptor superfamily member 8, is a cell membrane receptor encoded by the gene Tnfrsf8. It was originally identified as a cell surface antigen of Hodgkin's and Reed-Sternberg cells using the monoclonal antibody Ki-1. CD30 is also expressed on different non-Hodgkin's lymphomas, virus-infected T and B cells, and on normal T and B cells after activation. Among T cells, CD30 is preferentially expressed on a subset of T cells producing Th2-type cytokines and on CD4+/CD8+ thymocytes that coexpress CD45RO and IL-4 receptor. CD30 ligation by CD30L mediates pleiotropic effects including cell proliferation, activation, differentiation and cell death by apoptosis. CD30 can act as a costimulatory molecule in thymic negative selection and may also play a critical role in the pathophysiology of Hodgkin's disease and other CD30+ lymphomas.