---
Product Details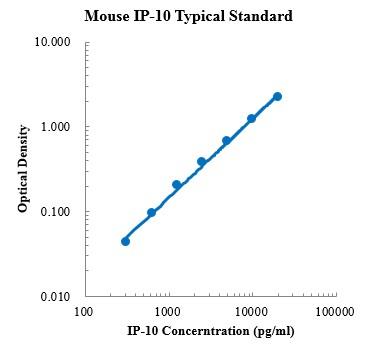 Brand
MultiSciences
CatNum
EK268/2
Product Name
Mouse CXCL10/IP-10 ELISA Kit
Specification 
96 T
Application
ELISA
Reactivity
Mouse
Assay Type
Sandwich ELISA
Suitable Sample Type
serum, plasma, cell culture supernates
Format
96-well strip plate
Storage
4℃ (unopened) standard stored at -20℃, others stored at 4℃ (opened)
Shipping Condition
4℃
Sample Volume
20μl 
Sensitivity
19.03 pg/ml
Standard Curve Range
312.50 - 20000 pg/ml
Spike Recovery Range
71 % - 122 %
Mean Spike Recovery
0.95
CV of Intra plate
2.2 % - 5.3 %
CV of Inter plate
1.3 % - 3.8 %
Components

96-well polystyrene microplate coated with a monoclonal antibody against IP-10

Mouse IP-10 Standard, lyophilized

IP-10 Detect Antibody

Standard Diluent

Streptavidin-HRP

Assay Buffer (10×)

Substrate (TMB)

Stop Solution

washing Buffer (20×)

Plate Covers

Describtion

This assay employs the quantitative sandwich enzyme immunoassay technique for the quantitative detection of mouse IP-10. The Mouse CXCL10/IP-10 ELISA is for research use only. Not for diagnostic or therapeutic procedures.

C-X-C motif chemokine 10 (CXCL10), also known as Interferon gamma-induced protein 10 (IP-10), is an 8.7 kDa protein that belongs to the CXC chemokine family. IP-10 is secreted by several cell types in response to IFN-γ. These cell types include monocytes, endothelial cells and fibroblasts. IP-10 has been attributed to several roles, such as chemoattraction for monocytes/macrophages, T cells, NK cells, and dendritic cells, promotion of T cell adhesion to endothelial cells, antitumor activity, and inhibition of bone marrow colony formation and angiogenesis. 

IP-10 shares a common receptor, CXCR3, with the chemokine MIG, but has been shown to play a distinct role in host defense in infections. IP-10 is involved in allergic contact dermatitis reactions and other allergic diseases. It appears during immune-mediated processes, in inflammation of the nervous system and in Alzheimer's disease. Its involvement in the regulation of fibroproliferation following inflammatory lung injury has been described.