---
Product Details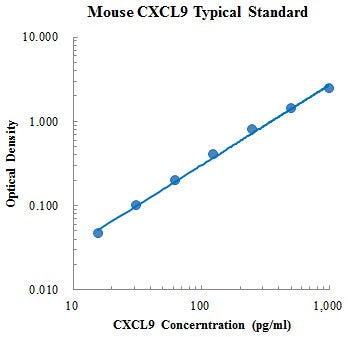 Brand
MultiSciences
CatNum
70-EK2143
Product Name
Mouse CXCL9/MIG ELISA Kit
Customs Name
Mouse CXCL9/MIG ELISA Kit
Application
ELISA
Reactivity
Mouse
Assay Type
Sandwich ELISA
Suitable Sample Type
serum, plasma, cell culture supernates
Format
96-well strip plate
Storage
4℃ (unopened) standard stored at -20℃, others stored at 4℃ (opened)
Shipping Condition
4℃
Sample Volume
20 μl
Sensitivity
1.82 pg/ml
Standard Curve Range
15.63 - 1000 pg/ml
Spike Recovery Range
78 % - 120 %
Mean Spike Recovery
0.98
CV of Intra plate
2.1 % - 7.7 %
CV of Inter plate
3.8 % - 6.8 %
Components
96-well polystyrene microplate coated with a monoclonal antibody against CXCL9
Mouse CXCL9 Standard, lyophilized
CXCL9 Detect Antibody
Standard Diluent
Streptavidin-HRP
Assay Buffer (10×)
Substrate (TMB)
Stop Solution
Washing Buffer (20×)
Plate Covers
Describtion
This assay employs the quantitative sandwich enzyme immunoassay technique for the quantitative detection of mouse CXCL9. The Mouse CXCL9/MIG ELISA is for research use only. Not for diagnostic or therapeutic procedures.
Chemokine (C-X-C motif) ligand 9 (CXCL9) also known as Monokine induced by gamma interferon (MIG) is a small cytokine belonging to the CXC chemokine family. CXCL9 is a T-cell chemoattractant, which is induced by IFN-γ. It is closely related to two other CXC chemokines called CXCL10 and CXCL11, they all elicit chemotactic functions by interacting with the chemokine receptor CXCR3. Matrix metalloproteinase 8 (MMP-8) degrades CXCL9 and cleaves CXCL10 at two positions. Matrix metalloproteinase 9 (MMP-9) degrades CXCL10 and cleaves CXCL9 at three different sites in its extended carboxy-terminal region.