---
Product Details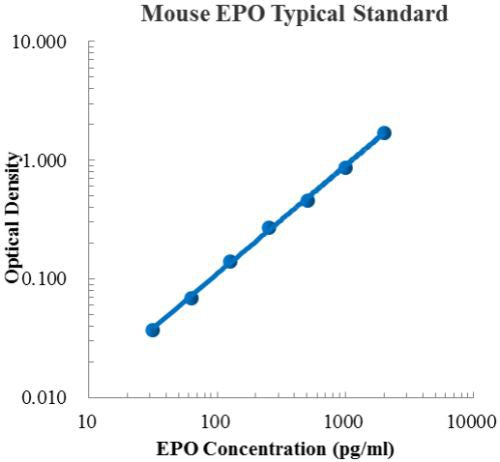 Factory Name
MultiSciences
Product Code
70-EK2E01-96
CatNum
EK2E01-96
Product Name
Mouse Erythropoietin/EPO ELISA Kit
Customs Name
Mouse Erythropoietin/EPO ELISA Kit
Product Spec
96T
SalePrice
3200
Type
ELISA Kit
Application
ELISA
Reactivity
Mouse
Modality
NoData
Assay Type
Sandwich ELISA
Suitable Sample Type
serum, plasma, cell culture supernates
Format
96-well strip plate
Storage
4℃ (unopened) standard stored at -20℃, others stored at 4℃ (opened)
Shipping Condition
4℃
Sensitivity
2.91 pg/ml
Standard Curve Range
31.25 - 2000 pg/ml
Spike Recovery Range
83 %-125 %
Mean Spike Recovery
108%
CV of Intra plate
2.3 % - 4.1 %
CV of Inter plate
3.9 % - 5.1 %
Components

96-well polystyrene microplate (12 strips of 8 wells) coated with an antibody against mouse EPO

Mouse EPO Standard, lyophilized

EPO Detect Antibody

Streptavidin-HRP                                                                                           

Assay Buffer (10×)

Substrate

Stop Solution

Washing Buffer (20×)

Adhesive Films

PRINCIPLE OF THE ASSAY

Mouse Erythropoietin/EPO ELISA Kit is based on the quantitative sandwich enzyme-linked immunosorbent assay technique to measure concentration of mouse EPO in the samples. An antibody specific for mouse EPO has been pre-coated onto a microplate. Standards and samples are pipetted into the wells and EPO present is bound by the immobilized antibody. After washing away any unbound substances, a biotin-linked detect antibody specific for EPO is added to the wells. Following a wash to remove any unbound antibody-biotin reagent, streptavidin-HRP is added. After washing, substrate solution is added to the wells and color develops in proportion to the amount of EPO bound

 in the initial step. The color development is stopped and the intensity of the color is measured.

Describtion

Erythropoietin (EPO) is a 34-39 kDa secreted glycoprotein that is a member of the type I cytokine superfamily. EPO is primarily produced by cells in the kidney (interstitial peritubular renal fibroblasts) and liver (hepatocytes and Ito cells), where its production is up-regulated by hypoxia. Erythropoietin is the principal hormone involved in the regulation of erythrocyte proliferation and differentiation and the maintenance of a physiological level of circulating erythrocyte mass. Mouse Erythropoietin has 94% amino acids sequence identity to rat Erythropoietin, and 80% identity to the human Erythropoietin. Apart from its role in erythropoiesis, EPO also acts on various non-hematopoietic cells to function as a viability and proliferation factor. EPO can stimulate myoblast proliferation while suppressing its differentiation, resulting in the expansion of the progenitor cell population. EPO is a tissueprotective factor that protects against ischemic and toxic injuries to neuronal, cardiovascular and renal tissues.