---
Product Details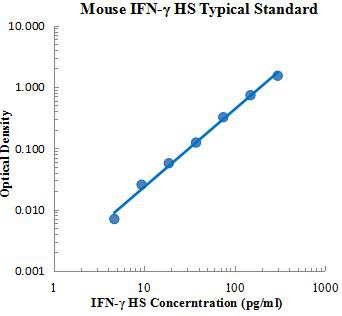 Product Code
70-EK280HS
CatNum
EK280HS
Product Name
Mouse IFN-γ High Sensitivity ELISA Kit
Type
ELISA Kit
Application
ELISA
Reactivity
Mouse
SDS
SDS - EK280HS
Assay Type
Sandwich ELISA
Suitable Sample Type
serum, plasma, cell culture supernates
Format
96-well strip plate
Storage
4℃ (unopened)standard stored at -20℃, others stored at 4℃ (opened)
Shipping Condition
4℃
Sample Volume
10 μl
Sensitivity
0.39 pg/ml
Standard Curve Range
4.69 - 300 pg/ml
Spike Recovery Range
88 % - 115 %
Mean Spike Recovery
104%
CV of Intra plate
4.7 % - 4.8 %
CV of Inter plate
1.2% - 5.0 %
Components
96-well polystyrene microplate coated with a monoclonal antibody against IFN-γ
Mouse IFN-γ Standard, lyophilized
IFN-γ Detect Antibody
Standard Diluent
Streptavidin-HRP
Amplification Reagent Concentrate
Amplification Diluent
Assay Buffer (10×)
Substrate (TMB)
Stop Solution
washing Buffer (20×)
Plate Covers
Describtion
This assay employs the quantitative sandwich enzyme immunoassay technique for the quantitative detection of mouse IFN-γ. The Mouse IFN-γHS ELISA is for research use only. Not for diagnostic or therapeutic procedures.
Interferon gamma (IFN-γ) is a dimerized soluble cytokine that is the only member of the type II class of interferons. IFN-γ is produced predominantly by natural killer (NK) and natural killer T (NKT) cells as part of the innate immune response. IFN-γ, or type II interferon, is a cytokine that is critical for innate and adaptive immunity against viral, some bacterial and protozoal infections. IFN-γ is an important activator of macrophages and inducer of Class II major histocompatibility complex (MHC) molecule expression. Aberrant IFN-γ expression is associated with a number of autoinflammatory and autoimmune diseases. The importance of IFN-γ in the immune system stems in part from its ability to inhibit viral replication directly, and most importantly from its immunostimulatory and immunomodulatory effects. The role of IFN-γ as a disease marker has been demonstrated for a number of different pathological situations including infections, autoimmune diseases, transplant rejection, allergy and diabetes.