---
Product Details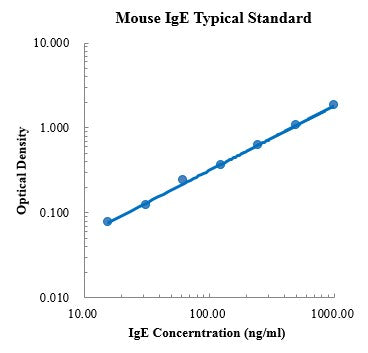 CatNum
70-EK275
Product Name
Mouse IgE ELISA Kit
Customs Name
Mouse IgE ELISA Kit
Application
ELISA
Reactivity
Mouse
Assay Type
Sandwich ELISA
Suitable Sample Type
serum, plasma, cell culture supernates
Format
96-well strip plate
Storage
4℃ (unopened) standard stored at -20℃, others stored at 4℃ (opened)
Shipping Condition
4℃
Sample Volume
100 μl (prediluted)
Sensitivity
1.10 ng/ml
Standard Curve Range
15.63 - 1000 ng/ml
Spike Recovery Range
89%-104%

Mean Spike Recovery
95%

CV of Intra plate
3.6 % - 4.6 %
CV of Inter plate
4.4 % - 5.3 %
Release Date
2015/11/26
Components
96-well polystyrene microplate coated with a monoclonal antibody against IgE
Mouse IgE Standard, lyophilized
IgE Detect Antibody
Assay Buffer (10×)
Substrate (TMB)
Stop Solution
Washing Buffer (20×)
Plate Covers
Describtion
This assay employs the quantitative sandwich enzyme immunoassay technique for the quantitative detection of mouse IgE. The Mouse IgE ELISA is for research use only. Not for diagnostic or therapeutic procedures.
Immunoglobulin E (IgE) is a kind of antibody that has only been found in mammals. IgE's main function is immunity to parasites such as helminths like Schistosoma mansoni, Trichinella spiralis, and Fasciola hepatica. IgE is utilized during immune defense against certain protozoan parasites such as Plasmodium falciparum. IgE also has an essential role in type I hypersensitivity, which manifests various allergic diseases, such as allergic asthma, most types of sinusitis, allergic rhinitis, food allergies, and specific types of chronic urticaria and atopic dermatitis. IgE also plays a pivotal role in responses to allergens, such as: anaphylactic drugs, bee stings, and antigen preparations used in desensitization immunotherapy. Although IgE is typically the least abundant isotype — blood serum IgE levels in a normal individual are only 0.05% of the Ig concentration — it is capable of triggering the most powerful inflammatory reactions.
Atopic individuals can have up to 10 times the normal level of IgE in their blood. IgE is known to be elevated in various autoimmune disorders such as Lupus (SLE), Rheumatoid Arthritis (RA) and psoriasis, and is theorized to be of pathogenetic importance in RA and SLE by eliciting a hypersensitivity reaction.