---
Product Details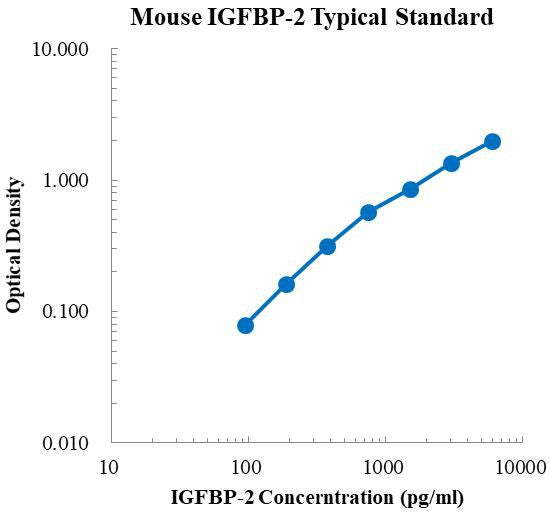 Factory Name
MultiSciences
Product Code
70-EK2278-96
CatNum
EK2278-96
Product Name
Mouse IGFBP-2 ELISA Kit
Customs Name
Mouse SCF ELISA Kit
Product Spec
96T
SalePrice
3200
Type
ELISA Kit
Application
ELISA
Reactivity
Mouse
Modality
NoData
Assay Type
Sandwich ELISA
Suitable Sample Type
serum, plasma, cell culture supernates
Format
96-well strip plate
Storage
4℃ (unopened) standard stored at -20℃, others stored at 4℃ (opened)
Shipping Condition
4℃
Sensitivity
6.13 pg/ml
Standard Curve Range
93.75 - 6000 pg/ml
Spike Recovery Range
88 %-103 %
Mean Spike Recovery
94%
CV of Intra plate
3.2 % - 4.6 %
CV of Inter plate
3.7 % - 4.8 %
Components

96-well polystyrene microplate (12 strips of 8 wells) coated with an antibody against mouse IGFBP-2

Mouse IGFBP-2 Standard, lyophilized

IGFBP-2 Detect Antibody

Streptavidin-HRP                                                                                           

Assay Buffer (10×)

Substrate

Stop Solution

Washing Buffer (20×)

Adhesive Films

PRINCIPLE OF THE ASSAY
Mouse IGFBP-2 ELISA Kit is based on the quantitative sandwich enzyme-linked immunosorbent assay technique to measure concentration of mouse IGFBP-2 in the samples. An antibody specific for mouse IGFBP-2 has been immobilized onto microwells. Standard or samples are pipetted into the wells, followed by the addition of biotin-linked detect antibody specific for IGFBP-2, and IGFBP-2 present is bound by the immobilized antibody and detect antibody following the first incubation. After removal of any unbound substances, streptavidin-HRP is added for a second incubation. After washing, substrate solution reacts with HRP and color develops in proportion to the amount of IGFBP-2 bound by the immobilized antibody. The color development is stopped by addition of acid and the optical density value is measured by microplate reader.
Describtion

Insulin-like growth factor-binding proteins (IGFBPs) play an integral role in modifying insulin-like growth factor (IGF) actions in a wide variety of cell types. This family contains six members that are structurally related but encoded by distinct genes.IGFBP-2 is the second most abundant IGFBP in the circulation and is present in various other biological fluids and tissues of many vertebrate species. Serum IGFBP-2 levels are elevated in conditions such as shock, fasting, hypoxemia or after traumata, suggesting complex regulation of IGFBP-2 expression. IGFBP2 is overexpressed in many malignancies and is often correlated with an increasingly malignant status of the tumor, pointing to a potential involvement of IGFBP-2 in tumorigenesis.During development, IGFBP-2 is expressed in a number of tissues. The highest expression level is found in the central nervous system. In adults, high expression levels are also detected in the central nervous system and in a number of reproductive tissues.