---
Product Details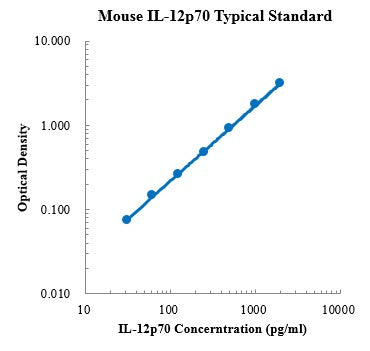 Brand
MultiSciences
CatNum
70-EK212
Product Name
Mouse IL-12p70 ELISA Kit
Customs Name
Mouse IL-12p70 ELISA Kit
Application
ELISA
Reactivity
Mouse
Assay Type
Sandwich ELISA
Suitable Sample Type
serum, plasma, cell culture supernates
Format
96-well strip plate
Storage
4℃ (unopened) standard stored at -20℃, others stored at 4℃ (opened)
Shipping Condition
4℃
Sample Volume
20 μl
Sensitivity
3.58pg/ml
Standard Curve Range
31.25 - 2000 pg/ml
Spike Recovery Range
89 % - 114 %
Mean Spike Recovery
0.99
CV of Intra plate
5.2 % - 9.4 %
CV of Inter plate
6.5 % - 7.9 %
Components
96-well polystyrene microplate coated with a monoclonal antibody against IL-17AF
Mouse IL-17AF Standard, lyophilized
IL-17AF Detect Antibody
Standard Diluent
Streptavidin-HRP
Assay Buffer (10×)
Substrate (TMB)
Stop Solution
Washing Buffer (20×)
Plate Covers
Describtion
This assay employs the quantitative sandwich enzyme immunoassay technique for the quantitative detection of mouse IL-12. The Mouse IL-12 ELISA is for research use only. Not for diagnostic or therapeutic procedures.
IL-12 is composed of a bundle of four alpha helices. It is aheterodimeric cytokine encoded by two separate genes, IL-12A (p35) and IL-12B (p40). The active heterodimer (referred to as 'p70'), and a homodimer of p40 are formed following protein synthesis. Mature mouse p35 shares 63% and 86% aa identity with human and rat p35, and mature mouse p40 shares 72% and 93% aa identity with human and rat p40.
IL-12 is involved in the differentiation of naive T cells into Th1 cells. It is known as a T cell-stimulating factor, which can stimulate the growth and function of T cells. IL-12 plays an important role in the activities of natural killer cells and T lymphocytes. IL-12 mediates enhancement of the cytotoxic activity of NK cells and CD8+ cytotoxic T lymphocytes. IL-12 also has anti-angiogenic activity, which means it can block the formation of new blood vessels. IL-12 has been shown to both enhance cytotoxic activity and induce interferon-gamma (IFN-γ) production in NK cells, T cells and dendritic epidermal T cells .
Increased plasma levels were found neurological disorders. Significant elevations were measured in autistic patients, and in multiple sclerosis patients. High levels of IL-12 have also been reported for autoimmune diseases and chronic inflammatory reactions, such as in synovial fluid of patients with osteoarthritis, rheumatoid arthritis and seronegative spondylarthropathies, in Sjogren's syndrome patients and atherosclerosis.