---
Product Details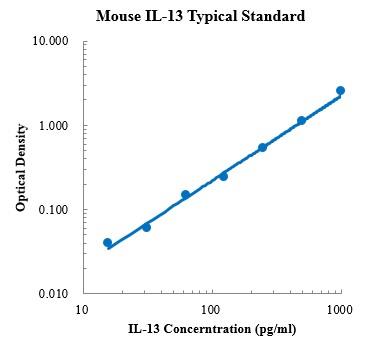 Brand
MultiSciences
CatNum
EK213/2
Product Name
Mouse IL-13 ELISA Kit
Specification 
96 T
Application
ELISA
Reactivity
Mouse
Assay Type
Sandwich ELISA
Suitable Sample Type
serum, plasma, cell culture supernates
Format
96-well strip plate
Storage
4℃ (unopened) standard stored at -20℃, others stored at 4℃ (opened)
Shipping Condition
4℃
Sample Volume
20 μl
Sensitivity
1.17 pg/ml
Standard Curve Range
15.63 - 1000 pg/ml
Spike Recovery Range
89 % - 112 % 
Mean Spike Recovery
1.02
CV of Intra plate
2.3 % - 3.0 %
CV of Inter plate
2.1 % - 5.3 %
Components

96-well polystyrene microplate coated with a monoclonal antibody against IL-13

Mouse IL-13 Standard, lyophilized

IL-13 Detect Antibody

Standard Diluent

Streptavidin-HRP

Assay Buffer (10×)

Substrate (TMB)

Stop Solution

washing Buffer (20×)

Plate Covers

Describtion

This assay employs the quantitative sandwich enzyme immunoassay technique for the quantitative detection of mouse IL-13. The Mouse IL-13 ELISA is for research use only. Not for use in therapeutic procedures. 

Interleukin 13 (IL-13) is located on chromosome 5q31 with a length of 1.4kb. IL-13 and IL-4 exhibit a 30% of sequence similarity and have a similar structure. IL-13 is cytokine secreted by many cell types, but especially T helper type 2 (Th2) cells. IL-13 has effects on immune cells that are similar to those of the closely related cytokine IL-4. Although IL-13 is associated primarily with the induction of airway disease, it also has anti-inflammatory properties. IL-13 is known to induce changes in hematopoietic cells, but these effects are probably less important than that of IL-4. IL-13 induces its effects through a multi-subunit receptor that includes the alpha chain of the IL-4 receptor (IL-4Rα) and at least one of two known IL-13-specific binding chains.

IL-13 specifically induces physiological changes in parasitized organs that are required to expel the offending organisms or their products. IL-13 induces many features of allergic lung disease, including airway hyperresponsiveness, goblet cellmetaplasia and mucus hypersecretion, which all contribute to airway obstruction. Furthermore, IL-13 inhibits HIV-1 replication in primary culture-derived macrophages and represents a candidate cytokine for the suppression of HIV infection within monocytes and macrophages in vivo.