---
Product Details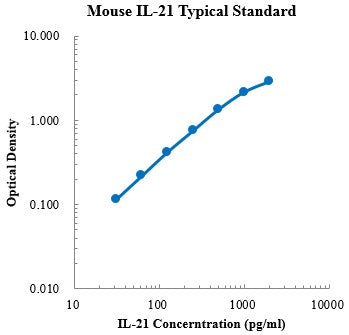 Brand
MultiSciences
CatNum
70-EK221
Product Name
Mouse IL-21 ELISA Kit
Customs Name
Mouse IL-21 ELISA Kit
Application
ELISA
Reactivity
Mouse
Assay Type
Sandwich ELISA
Suitable Sample Type
serum, plasma, cell culture supernates
Format
96-well strip plate
Storage
4℃ (unopened) standard stored at -20℃, others stored at 4℃ (opened)
Shipping Condition
4℃
Sample Volume
10 μl
Sensitivity
0.58 pg/ml
Standard Curve Range
31.25 - 2000 pg/ml
Spike Recovery Range
85 % - 114 %
Mean Spike Recovery
0.96
CV of Intra plate
3.0 % - 5.5 %
CV of Inter plate
3.5 % - 6.1 %
Components
96-well polystyrene microplate coated with a monoclonal antibody against IL-21
Mouse IL-21 Standard, lyophilized
IL-21 Detect Antibody
Standard Diluent
Streptavidin-HRP
Assay Buffer (10×)
Substrate (TMB)
Stop Solution
washing Buffer (20×)
Plate Covers
Describtion
This assay employs the quantitative sandwich enzyme immunoassay technique for the quantitative detection of mouse 21. The Mouse IL-21 ELISA is for research use only. Not for diagnostic or therapeutic procedures. Interleukin-21 (IL-21) is a cytokine that has potent regulatory effects on cells of the immune system, including natural killer (NK) cells and cytotoxic T cells that can destroy virally infected or cancerous cells. This cytokine induces cell division/proliferation in its target cells. IL-21 is
expressed in activated human CD4+ T cells but not in most other tissues. In addition, IL-21 expression is up-regulated in Th2 and Th17 subsets of T helper cells, as well as T follicular cells. Furthermore IL-21 is expressed in NK T cells regulating the function of these cells.
IL-21 has pathologic function in immune-inflammatory diseases. Data suggest the existence of a positive autocrine loop that could help to amplify and stabilize IL-21-driven, T cell-mediated responses. Moreover, it has antitumour activity and may have a role in the development of autoimmunity. IL-21 may have therapeutic potentials as an antitumor agent in the clinic.