---
Product Details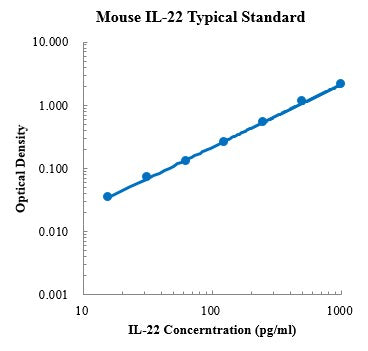 Brand
MultiSciences
CatNum
70-EK222
Product Name
Mouse IL-22 ELISA Kit
Customs Name
Mouse IL-22 ELISA Kit
Application
ELISA
Reactivity
Mouse
Assay Type
Sandwich ELISA
Suitable Sample Type
serum, plasma, cell culture supernates
Format
96-well strip plate
Storage
4℃ (unopened) standard stored at -20℃, others stored at 4℃ (opened)
Shipping Condition
4℃
Sample Volume
20 μl
Sensitivity
0.74 pg/ml
Standard Curve Range
15.63 - 1000 pg/ml
Spike Recovery Range
85 % - 118 %
Mean Spike Recovery
0.94
CV of Intra plate
2.9 % - 7.9 %
CV of Inter plate
3.1 % - 5.4 %
Components
96-well polystyrene microplate coated with a monoclonal antibody against IL-22
Mouse IL-22 Standard, lyophilized
IL-22 Detect Antibody
Standard Diluent
Streptavidin-HRP
Assay Buffer (10×)
Substrate (TMB)
Stop Solution
washing Buffer (20×)
Plate Covers
Describtion
This assay employs the quantitative sandwich enzyme immunoassay technique for the quantitative detection of mouse IL-22. The Mouse IL-22 ELISA is for research use only. Not for diagnostic or therapeutic procedures.
IL-22 is an α-helical cytokine. IL-22 binds to a heterodimeric cell surface receptor composed of IL-10R2 and IL-22R1 subunits.IL-22R is expressed on tissue cells, and it is absent on immune cells.In the mouse, the IL-22 gene is located on chromosome 10, in the same region as the IFN gamma gene. IL-22, in contrast to its relative IFN gamma, regulates the expression of only a few genes in keratinocytes. This is due to varied signal transduction. IL-22 biological activity is initiated by binding to a cell-surface complex composed of IL-22R1 and IL-10R2 receptor chains and further regulated by interactions with a soluble binding protein, IL-22BP, which shares sequence similarity with an extracellular region of IL-22R1 (sIL-22R1). IL-22 and IL-10 receptor chains play a role in cellular targeting and signal transduction to selectively initiate and regulate immune responses.
IL-22 can contribute to immune disease through the stimulation of inflammatory responses, S100s and defensins. IL-22 also promotes hepatocyte survival in the liver and epithelial cells in the lung and gut similar to IL-10.