---
Product Details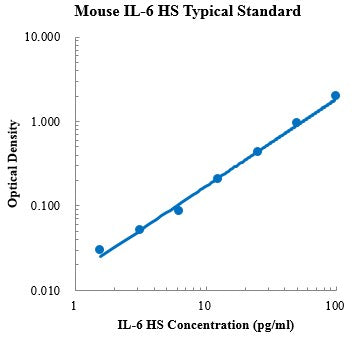 Factory Name
MultiSciences
Product Code
70-EK206HS
Product Name
Mouse IL-6 High  Sensitivity ELISA Kit
Customs Name
Mouse IL-6 High  Sensitivity ELISA Kit
Product Spec
96 T
Sale price
$380
Application
ELISA
Reactivity
Mouse
Assay Type
Sandwich ELISA
Suitable  Sample Type
serum, plasma, cell  culture supernates
Format
96-well strip plate
Storage
4℃ (unopened)standard  stored at -20℃, others stored at 4℃ (opened)
Shipping  Condition
4℃
Sample Volume
20 μl
Sensitivity
0.43 pg/ml
Standard Curve  Range
1.56 - 100 pg/ml
Spike Recovery  Range
82 % - 93 %
Mean Spike  Recovery
86%
CV of Intra  plate
4.6  % - 5.2 %
CV of Inter  plate
3.6  % - 6.9 %
Components
96-well polystyrene  microplate coated with a monoclonal antibody against IL-6
Mouse IL-6 Standard, lyophilized
IL-6 Detect Antibody
Standard Diluent
Streptavidin-HRP
Amplification Reagent Concentrate
Amplification Diluent
Assay Buffer (10×)
Substrate (TMB)
Stop Solution
Washing Buffer (20×)
Plate Covers
Describtion
This assay employs  the quantitative sandwich enzyme immunoassay technique for the quantitative  detection of mouse IL-6. The Mouse IL-6  High Sensitivity ELISA is for research use only. Not for diagnostic or  therapeutic procedures.
Interleukin 6 (IL-6) is an interleukin that acts as both a pro-inflammatory  cytokine and an anti-inflammatory myokine. Mature mouse IL-6 is 187 amino  acids (aa) in length and shares 39% and 85% aa sequence identity with human  and rat IL-6.
IL-6 is secreted by T cells and macrophages to stimulate immune response,  e.g. during infection and after trauma, especially burns or other tissue  damage leading to inflammation. IL-6 also plays a role in fighting infection,  as IL-6 has been shown in mice to be required for resistance against  bacteriumStreptococcus pneumoniae.
IL-6 stimulates the inflammatory and auto-immune processes in many diseases  such as diabetes, atherosclerosis, depression, Alzheimer's Disease, systemic  lupus erythematosus, multiple myeloma, prostate cancer, Beh?et's disease, and  rheumatoid arthritis. Advanced/ metastatic cancer patients have higher levels  of IL-6 in their blood.