---
Product Details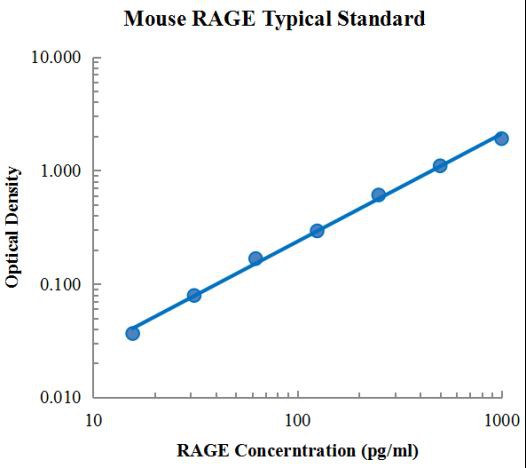 Factory Name
MultiSciences
Product Code
70-EK2103-96
CatNum
EK2103-96
Product Name
Mouse RAGE ELISA Kit
Customs Name
Mouse RAGE ELISA Kit
Product Spec
96T
SalePrice
3200
Type
ELISA Kit
Application
ELISA
Reactivity
Mouse
Modality
NoData
Assay Type
Sandwich ELISA
Suitable Sample Type
serum, plasma, cell culture supernates
Format
96-well strip plate
Storage
4℃ (unopened) standard stored at -20℃, others stored at 4℃ (opened)
Shipping Condition
4℃
Sensitivity
7.90 pg/ml
Standard Curve Range
15.63-1000 pg/ml
Spike Recovery Range
97%-125%
Mean Spike Recovery
105%
CV of Intra plate
2.0 % - 3.4 %
CV of Inter plate
2.2% - 4.8%
Components

96-well polystyrene microplate (12 strips of 8 wells) coated with an antibody against mouse RAGE

Mouse RAGE Standard, lyophilized

RAGE Detect Antibody

Standard Diluent

Streptavidin-HRP                                                                                           

Assay Buffer (10×)

Substrate

Stop Solution

Washing Buffer (20×)

Adhesive Films

PRINCIPLE OF THE ASSAY

Mouse RAGE ELISA Kit is based on the quantitative sandwich enzyme-linked immunosorbent assay technique to measure concentration of mouse RAGE in the samples. An antibody specific for mouse RAGE has been immobilized onto microwells. Standard or samples are pipetted into the wells, followed by the addition of biotin-linked detect antibody specific for RAGE, and RAGE present is bound by the immobilized antibody and detect antibody following the first incubation. After removal of any unbound substances, streptavidin-HRP is added for a second incubation. After washing, substrate solution reacts with HRP and color develops in proportion to the amount of RAGE bound by the immobilized antibody. The color development is stopped by addition of acid and the optical density value is measured by microplate reader.

Describtion

Receptor for advanced glycation end product (RAGE) is a 35 kDa transmembrane receptor of the immunoglobulin super family. Its name comes from its ability to bind advanced glycation endproducts (AGE). In view of its inflammatory function in innate immunity and its ability to detect a class of ligands through a common motif, RAGE is often referred to as a pattern recognition receptor. RAGE has been linked to several chronic diseases, such as atherosclerosis, peripheral vascular disease, myocardial infarction, congestive heart failure, diabetes, Alzheimer's disease and so on. RAGE is expressed at the highest levels in the lung compared to other tissues, in particular in alveolar epithelial type I cells, and is lost in Idiopathic pulmonary fibrosis (IPF) indicating that expression and regulation of RAGE in the pulmonary system differs from that in the vascular system. Blockade/knockdown of RAGE resulted in impaired cell adhesion, and increased cell proliferation and migration.