---
Product Details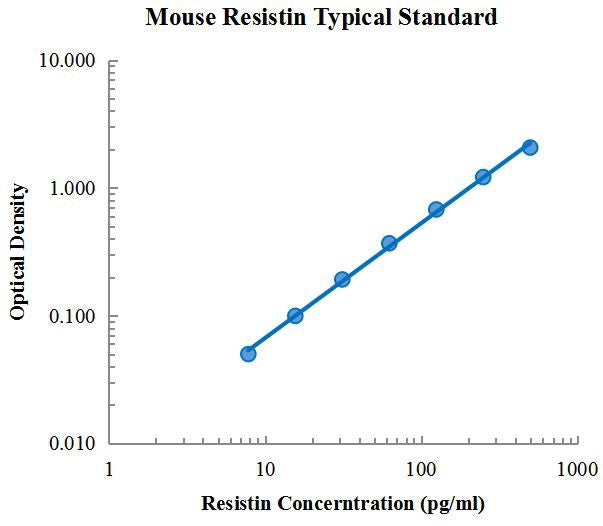 Factory Name
MultiSciences
Product Code
70-EK2R01-96
CatNum
EK2R01-96
Product Name
Mouse Resistin ELISA Kit
Customs Name
Mouse Resistin ELISA Kit
Product Spec
96T
SalePrice
3200
Type
ELISA Kit
Application
ELISA
Reactivity
Mouse
Modality
NoData
Assay Type
Sandwich ELISA
Suitable Sample Type
serum, plasma, cell culture supernates
Format
96-well strip plate
Storage
4℃ (unopened) standard stored at -20℃, others stored at 4℃ (opened)
Shipping Condition
4℃
Sensitivity
0.37 pg/ml
Standard Curve Range
7.81-500 pg/ml
Spike Recovery Range
87%-116%
Mean Spike Recovery
97%
CV of Intra plate
3.2 % - 3.3 %
CV of Inter plate
3.0% - 3.8%
Components

96-well polystyrene microplate (12 strips of 8 wells) coated with an antibody against mouse Resistin

Mouse Resistin Standard, lyophilized

Resistin Detect Antibody

Streptavidin-HRP                                                                                           

Assay Buffer (10×)

Substrate

Stop Solution

Washing Buffer (20×)

Adhesive Films

PRINCIPLE OF THE ASSAY

Mouse Resistin ELISA Kit is based on the quantitative sandwich enzyme-linked immunosorbent assay technique to measure concentration of mouse Resistin in the samples. An antibody specific for mouse Resistin has been pre-coated onto a microplate. Standards and samples are pipetted into the wells and Resistin present is bound by the immobilized antibody. After washing away any unbound substances, a biotin-linked detect antibody specific for Resistin is added to the wells. Following a wash to remove any unbound antibody-biotin reagent, streptavidin-HRP is added. After washing, substrate solution is added to the wells and color develops in proportion to the amount of Resistin bound in the initial step. The color development is stopped and the intensity of the color is measured.

Describtion

Resistin is a cysteine-rich adipose-derived peptide hormone that in humans is encoded by the RETN gene. In primates, pigs, and dogs, resistin is secreted by immune and epithelial cells, while, in rodents, it is secreted by adipose tissue. The length of the resistin pre-peptide in human is 108 amino acid residues and in the mouse and rat it is 114 amino acids. The molecular weight is about 12.5 kDa.

Resistin accelerates the accumulation of LDL in arteries, increasing the risk of heart disease. It adversely impacts the effects of statins, the main cholesterol-reducing drug used in the treatment and prevention of cardiovascular disease. It has recently been found that resistin also participates in the inflammatory response. Resistin does indeed bear features of a pro-inflammatory cytokine, and could act as a key node in inflammatory diseases. Resistin is an adipose-derived hormone (similar to a cytokine) whose physiologic role has been the subject of much controversy regarding its involvement with obesity and type II diabetes mellitus.