---
Product Details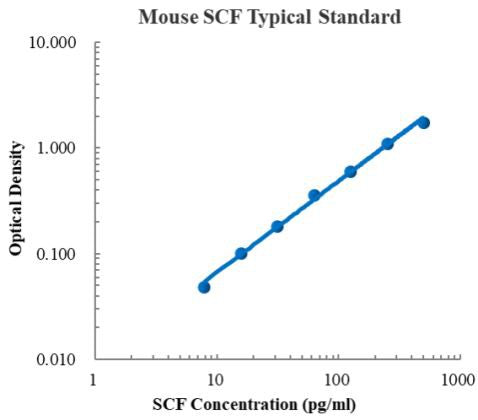 Factory Name
MultiSciences
Product Code
70-EK2210-96
CatNum
EK2210-96
Product Name
Mouse SCF ELISA Kit
Customs Name
Mouse SCF ELISA Kit
Product Spec
96T
SalePrice
3200
Type
ELISA Kit
Application
ELISA
Reactivity
Mouse
Modality
NoData
Assay Type
Sandwich ELISA
Suitable Sample Type
serum, plasma, cell culture supernates
Format
96-well strip plate
Storage
4℃ (unopened) standard stored at -20℃, others stored at 4℃ (opened)
Shipping Condition
4℃
Sensitivity
0.17 pg/ml
Standard Curve Range
7.81 - 500 pg/ml
Spike Recovery Range
80 %-100 %
Mean Spike Recovery
89%
CV of Intra plate
2.6 % - 4.1 %
CV of Inter plate
3.4 % - 4.6 %
Components

96-well polystyrene microplate (12 strips of 8 wells) coated with an antibody against mouse SCF

Mouse SCF Standard, lyophilized

SCF Detect Antibody

Standard Diluent

Streptavidin-HRP                                                                                           

Assay Buffer (10×)

Substrate

Stop Solution

Washing Buffer (20×)

Adhesive Films

PRINCIPLE OF THE ASSAY
Mouse SCF ELISA Kit is based on the quantitative sandwich enzyme-linked immunosorbent assay technique to measure concentration of mouse SCF in the samples. An antibody specific for mouse SCF has been pre-coated onto a microplate. Standards and samples are pipetted into the wells and SCF present is bound by the immobilized antibody. After washing away any unbound substances, a biotin-linked detect antibody specific for SCF is added to the wells. Following a wash to remove any unbound antibody-biotin reagent, streptavidin-HRP is added. After washing, substrate solution is added to the wells and color develops in proportion to the amount of SCF bound in the initial step. The color development is stopped and the intensity of the color is measured.
Describtion

Stem Cell Factor (SCF) is a cytokine that binds to the c-Kit receptor. SCF can exist both as a transmembrane protein and a soluble protein. SCF promotes mast cell adhesion, migration, proliferation, and survival. It also promotes the release of histamine and tryptase, which are involved in the allergic response. SCF acts in a synergistic manner with various growth factors, such as IL-3, IL-6, IL-11, GM-CSF, G-CSF, and Epo to induce myeloid and erythroid lineage colony formation. This cytokine plays an important role in hematopoiesis (formation of blood cells), spermatogenesis, and melanogenesis.

Cardiomyocyte-specific overexpression of transmembrane SCF promotes stem cell migration and improves cardiac function and animal survival after myocardial infarction. Mutations in this gene in dogs suggest it is a candidate skin cancer susceptibility gene.