---
Product Details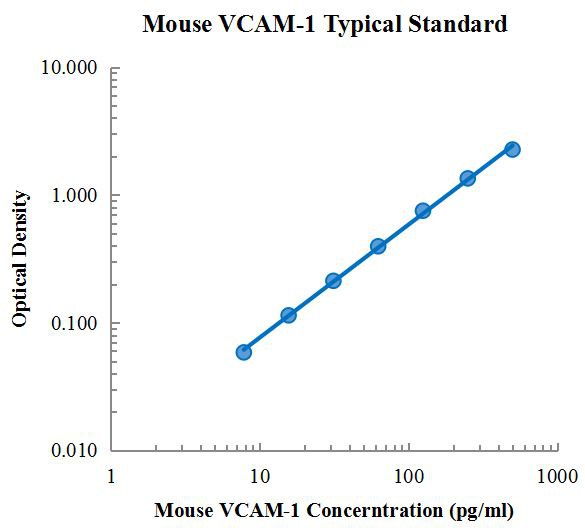 Factory Name

MultiSciences

Product Code

70-EK290-96

CatNum

EK290-96

Product Name

Mouse sVCAM-1/CD106 ELISA Kit

Customs Name

Mouse sVCAM-1/CD106 ELISA Kit

Product Spec

96T

Type

ELISA Kit

Application

ELISA

Reactivity

Mouse

Modality

NoData

Assay Type

Sandwich ELISA

Suitable Sample Type

serum, plasma, cell culture supernates

Format

96-well strip plate

Storage

4℃ (unopened) standard stored at -20℃, others stored at 4℃ (opened)

Shipping Condition

4℃

Sample Volume

50ul

Sensitivity

0.03 pg/ml

Standard Curve Range

7.81-500 pg/ml

Spike Recovery Range

85%-118%

Mean Spike Recovery

98%

CV of Intra plate

2.4% - 4.8 %

CV of Inter plate

1.9% - 3.8 %

Components

96-well polystyrene microplate coated with a monoclonal antibody against  Mouse sVCAM-1

Mouse sVCAM-1  Standard, lyophilized

Mouse sVCAM-1 Detect Antibody

Streptavidin-HRP

Amplification Reagent Concentrate

Amplification Diluent

Assay Buffer (10×)

Substrate (TMB)

Stop Solution

Washing Buffer (20×)

Plate Covers

PRINCIPLE OF THE ASSAY

Mouse sVCAM-1/CD106 ELISA Kit is based on the quantitative sandwich enzyme-linked immunosorbent assay technique to measure concentration of mouse sVCAM-1 in the samples. An antibody specific for mouse sVCAM-1 has been immobilized onto microwells. Standard or samples are pipetted into the wells, followed by the addition of biotin-linked detect antibody specific for sVCAM-1, and sVCAM-1 present is bound by the immobilized antibody and detect antibody following the first incubation. After removal of any unbound substances, streptavidin-HRP is added for a second incubation. After washing, substrate solution reacts with HRP and color develops in proportion to the amount of sVCAM-1 bound by the immobilized antibody. The color development is stopped by addition of acid and the optical density value is measured by microplate reader.

Describtion

Vascular cell adhesion molecule 1 (VCAM-1), also known as CD106, is a 100 - 110 kDa, type I transmembrane glycoprotein typically characterized by the presence of seven C2-type immunoglobulin (Ig) domains and functions as a cell adhesion molecule. The VCAM-1 protein mediates the adhesion of lymphocytes, monocytes, eosinophils, and basophils to vascular endothelium. VCAM-1 is an endothelial ligand for VLA-4 (Very Late Antigen-4 or α4β1) of the β1 subfamily of integrins, and for integrin α4β7. VCAM-1 expression has also been observed in other cell types. It has also been shown to interact with EZR and Moesin. Other roles proposed for VCAM-1 include the regulation of osteoclastogenesis via a cell-to-cell contact mechanism and the induction of sickle cell adherence to vascular endothelial cells during hypoxemia. It also functions in leukocyte-endothelial cell signal transduction. 

Monitoring of sVCAM-1 levels in serum provides more detailed insights in several pathological situations such as atherosclerosis and rheumatoid arthritis.