---
Product Details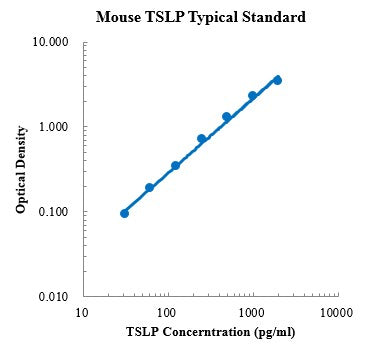 Brand
MultiSciences
CatNum
70-EK265
Product Name
Mouse TSLP ELISA Kit
Customs Name
Mouse TSLP ELISA Kit
Application
ELISA
Reactivity
Mouse
Assay Type
Sandwich ELISA
Suitable Sample Type
serum, plasma, cell culture supernates
Format
96-well strip plate
Storage
4℃ (unopened) standard stored at -20℃, others stored at 4℃ (opened)
Shipping Condition
4℃
Sample Volume
20 μl
Sensitivity
0.45 pg/ml
Standard Curve Range
31.25 - 2000 pg/ml
Spike Recovery Range
98 % - 119 %
Mean Spike Recovery
1.1
CV of Intra plate
2.3 % - 3.4%
CV of Inter plate
3.4 % - 7.4%
Components
96-well polystyrene microplate coated with a monoclonal antibody against TSLP
Mouse TSLP Standard, lyophilized
TSLP Detect Antibody
Standard Diluent
Streptavidin-HRP
Assay Buffer (10×)
Substrate (TMB)
Stop Solution
washing Buffer (20×)
Plate Covers
Describtion
This assay employs the quantitative sandwich enzyme immunoassay technique for the quantitative detection of mouse TSLP. The Mouse TSLP ELISA is for research use only. Not for diagnostic or therapeutic procedures.
Thymic stromal lymphopoietin (TSLP) is produced mainly by non-hematopoietic cells such as fibroblasts, epithelial cells and different types of stromal or stromal-like cells. It mainly impacts myeloid cells and induces the release of T cell-attracting chemokines from monocytes and enhances the maturation of myeloid (CD11c+) dendritic cells. TSLP has also been shown to activate the maturation of a specific subset of dendritic cells located within the epidermis, called Langerhans cells. Within the thymus TSLP activation of both myeloid and plasmacytoid (CD123+) dendritic cells results in the production of regulatory T cells. TSLP signals through a heterodimeric receptor complex composed of the thymic stromal lymphopoietin receptor CRLF2 and the IL-7R alpha chain. After binding STAT5 phosphorylation is induced resulting in the expression of upstream transcription factors. TSLP expression is linked to many disease states including asthma, inflammatory arthritis, atopic dermatitis, and eczema and other allergic states.