---
Product Details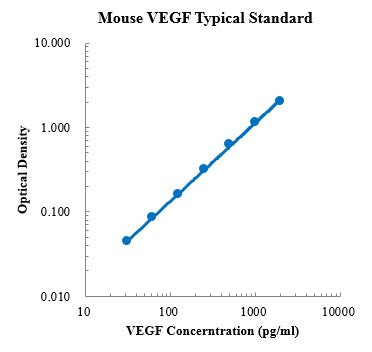 Brand
MultiSciences
CatNum
70-EK283
Product Name
Mouse VEGF ELISA Kit
Customs Name
Mouse VEGF ELISA Kit
Application
ELISA
Reactivity
Mouse
Assay Type
Sandwich ELISA
Suitable Sample Type
serum, plasma, cell culture supernates
Format
96-well strip plate
Storage
4℃ (unopened) standard stored at -20℃, others stored at 4℃ (opened)
Shipping Condition
4℃
Sample Volume
20 μl
Sensitivity
1.97 pg/ml
Standard Curve Range
31.25 - 2000 pg/ml
Spike Recovery Range
89 % - 110 %
Mean Spike Recovery
0.98
CV of Intra plate
3.8 % - 7.6 %
CV of Inter plate
2.3 % - 5.2 %
Components
96-well polystyrene microplate coated with a monoclonal antibody against VEGF
Mouse VEGF Standard, lyophilized
VEGF Detect Antibody
Standard Diluent
Streptavidin-HRP
Assay Buffer (10×)
Substrate (TMB)
Stop Solution
washing Buffer (20×)
Plate Covers
Describtion
This assay employs the quantitative sandwich enzyme immunoassay technique for the quantitative detection of mouse VEGF. The Mouse VEGF ELISA is for research use only. Not for diagnostic or therapeutic procedures.
Vascular endothelial growth factor (VEGF) is a sub-family of growth factors, to be specific, the platelet-derived growth factor family of cystine-knot growth factors. They are important signaling proteins involved in both vasculogenesis (the de novo formation of the embryonic circulatory system) and angiogenesis (the growth of blood vessels from pre-existing vasculature). VEGF is a signal protein produced by cells that simulates vasculogenesis and angiogenesis. It is part of the system that restores the oxygen supply to tissues when blood circulation is inadequate. VEGF is best known for its role in vasculogenesis. During embryogenesis, VEGF regulates the proliferation, migration, and survival of endothelial cells, thus regulating blood vessel density and size, but playing no role in determining vascular patterns. Serum concentration of VEGF is high in bronchial asthma and diabetes mellitus. When VEGF is overexpressed, it can contribute to disease. Solid cancers cannot grow beyond a limited size without an adequate blood supply; cancers that can express VEGF are able to grow and metastasize. Overexpression of VEGF can cause vascular disease in the retina of the eye and other parts of the body. Drugs such as bevacizumab and Ranibizumab can inhibit VEGF and control or slow those diseases.