---
Product Details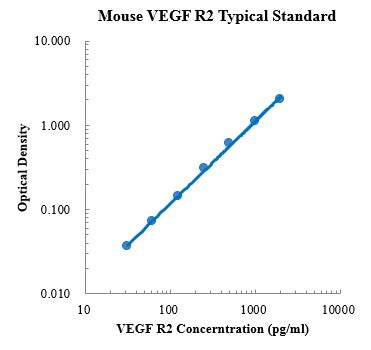 Brand
MultiSciences
CatNum
70-EK2159
Product Name
Mouse VEGF R2/FIK-1 ELISA Kit
Customs Name
Mouse VEGF R2/FIK-1 ELISA Kit
Application
ELISA
Reactivity
Mouse
Assay Type
Sandwich ELISA
Suitable Sample Type
serum, plasma, cell culture supernates
Format
96-well strip plate
Storage
4℃ (unopened) standard stored at -20℃, others stored at 4℃ (opened)
Shipping Condition
4℃
Sample Volume
100 μl (prediluted)
Sensitivity
1.63 pg/ml
Standard Curve Range
31.25 - 2000 pg/ml
Spike Recovery Range
88 % - 107 %
Mean Spike Recovery
0.99
CV of Intra plate
4.0 % - 6.1 %
CV of Inter plate
5.5 % - 7.6 %
Components
96-well polystyrene microplate coated with a monoclonal antibody against TNF-α
Mouse TNF-α Standard, lyophilized
TNF-α Detect Antibody
Standard Diluent
Streptavidin-HRP
Assay Buffer (10×)
Substrate (TMB)
Stop Solution
washing Buffer (20×)
Plate Covers
Describtion
This assay employs the quantitative sandwich enzyme immunoassay technique for the quantitative detection of mouse VEGF R2. The Mouse VEGF R2/FIK-1 ELISA is for research use only. Not for diagnostic or therapeutic procedures.
Vascular endothelial growth factor receptor 2 (VEGF R2) is a member of the class III subfamily of receptor tyrosine kinases (RTKs). VEGF R2 is more widely distributed and expressed in all vessel-derived endothelial cells in comparison to VEGF R1. VEGF R2 binds VEGF-A (VEGF121, VEGF165, VEGF189 and VEGF206 splice variants), VEGF-C and VEGF-D. Soluble forms of VEGF R1 and VEGF R2 differ significantly from one another in terms of their abilities to block VEGF-induced cell proliferation and migration. Soluble VEGF R2 cannot compete with VEGF for binding to human endothelial cells expressing both VEGF R1 and VEGF R2, in contrast to soluble VEGF R1. Soluble VEGF R2 can only partially inhibit cell migration, whereas soluble VEGF R1 can almost completely block VEGF-induced cell proliferation and migration. The binding of VEGF to soluble VEGF R2, but not VEGF R1, is also dependent on heparin. The VEGF/VEGF R2 signaling pathway plays an important role in tumor angiogenesis and other diseases where "pathological angiogenesis" is involved. Inactivation of functional VEGF R2 by a blocking antibody can disrupt angiogenesis and prevent tumor cell invasion.