---
Product Details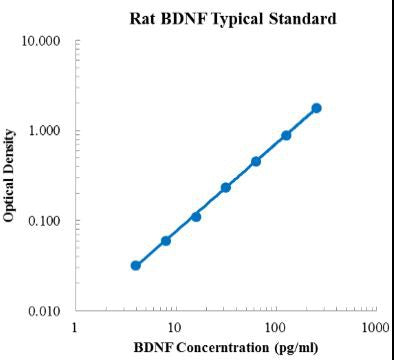 Factory Name
MultiSciences
Product Code
70-EK3127-96
CatNum
EK3127-96
Product Name
Rat BDNF ELISA Kit
Customs Name
Rat BDNF ELISA Kit
Product Spec
96T
SalePrice
3200
Type
ELISA Kit
Application
ELISA
Reactivity
Rat
SDS
SDS - EK280
Modality
NoData
Assay Type
Sandwich ELISA
Suitable Sample Type
serum, plasma, cell culture supernates
Format
96-well strip plate
Storage
4℃ (unopened) standard stored at -20℃, others stored at 4℃ (opened)
Shipping Condition
4℃
Sensitivity
0.54 pg/ml
Standard Curve Range
3.91-250 pg/ml
Spike Recovery Range
84%-118%
Mean Spike Recovery
1.05
CV of Intra plate
2.7% - 4.7%
CV of Inter plate
3.9% - 4.9%
Components

96-well polystyrene microplate (12 strips of 8 wells) coated with a monoclonal antibody against rat BDNF

Rat BDNF Standard, lyophilized

BDNF Detect Antibody

Standard Diluent

Streptavidin-HRP

Assay Buffer (10×)

Substrate (TMB)

Stop Solution

Washing Buffer (20×)

Adhesive Films

Describtion

Brain-derived neurotrophic factor (BDNF), is a member of the neurotrophin family of growth factors, which are related to the Nerve Growth Factor. Neurotrophic factors are found in the brain and the periphery. BDNF is made in the endoplasmic reticulum and secreted from dense-core vesicles. In the brain, it is active in the hippocampus, cortex, and basal forebrain. It is also expressed in the retina, motor neurons, the kidneys, saliva, and the prostate. 

BDNF acts on certain neurons of the central nervous system and the peripheral nervous system, helping to support the survival of existing neurons, and encourage the growth and differentiation of new neurons and synapses. BDNF alterations may play a role in the pathogenesis of schizophrenia. It is also related with depression, eczema, epilepsy, alzheimer's disease, obesity, aging, congenital central hypoventilation syndrome and post-chemotherapy cognitive impairment.