---
Product Details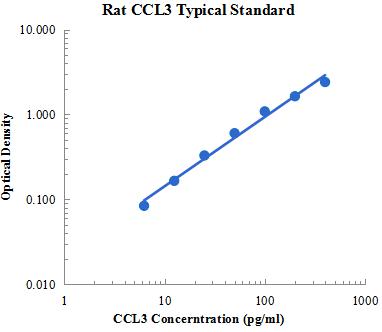 Assay Type
Sandwich ELISA
Suitable Sample Type
serum, plasma, cell culture supernates
Format
96-well strip plate
Storage
4℃ (unopened)standard stored at -20℃, others stored at 4℃ (opened)
Shipping Condition
4℃
Sample Volume
20 μl
Sensitivity
0.09 pg/ml
Standard Curve Range
6.25 - 400 pg/ml
Spike Recovery Range
90 % - 119 %
Mean Spike Recovery
1.05
CV of Intra plate
4.8 % - 5.0 %
CV of Inter plate
3.5 % - 4.6 %
Release Date
43110
Components
96-well polystyrene microplate coated with a monoclonal antibody against CCL3
Rat CCL3 Standard, lyophilized
CCL3 Detect Antibody
Standard Diluent
Streptavidin-HRP
Assay Buffer (10×)
Substrate (TMB)
Stop Solution
Washing Buffer (20×)
Plate Covers
Describtion
This assay employs the quantitative sandwich enzyme immunoassay technique for the quantitative detection of rat CCL3. The Rat CCL3 ELISA is for research use only. Not for use in therapeutic procedures.
The chemokine (C-C motif) ligand 3 (CCL3), also known as macrophage inflammatory protein 1α (MIP-1α), is a cytokine belonging to the CC chemokine family that is involved in the acute inflammatory state in the recruitment and activation of polymorphonuclear leukocytes. The gene for CCL3 is located on human chromosome 17. The cDNAs of CCL3 encode a 92 amino acid (aa) residue precursor protein with a 22 aa residue signal peptide that is cleaved to generate the secreted mature protein. Like other chemokines, CCL3 is a monocyte chemoattractant. In addition, CCL3 has also been reported to have differential chemoattractant and pro-adhesive effects on T-lymphocytes, NK cells, cytotoxic T cells, B cells, basophils and eosinophils.
CCL3 has been identified as a stem cell inhibitor (SCI) that can inhibit the proliferation of hematopoietic progenitor cells both in vitro and in vivo. CCL3, CCL4 and RANTES have been implicated as the major HIV-suppressive factors produced by CD8+ T cells.