---
Product Details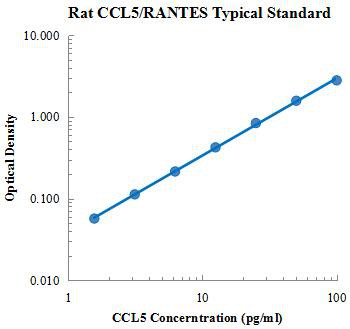 Factory Name
MultiSciences
Product Code
EK3129-96
CatNum
EK3129-96
Product Name
Rat CCL5/RANTES ELISA Kit
Customs Name
Rat CCL5/RANTES ELISA Kit
Product Spec
96 T
Application
ELISA
Reactivity
Rat
SDS
SDS - EK3129
Assay Type
Sandwich ELISA
Suitable Sample Type
serum, plasma, cell culture supernates
Format
96-well strip plate
Storage
4℃ (unopened)standard stored at -20℃, others stored at 4℃ (opened)
Shipping Condition
4℃
Sample Volume
5 μl
Sensitivity
0.36 pg/ml
Standard Curve Range
1.56 - 100 pg/ml
Spike Recovery Range
88 % - 122 %
Mean Spike Recovery
103%
CV of Intra plate
2.4 % - 3.9 %
CV of Inter plate
4.5 % - 5.2 %
Release Date
2017/12/19
Components
96-well polystyrene microplate coated with a monoclonal antibody against CCL5
Rat CCL5 Standard, lyophilized
CCL5 Detect Antibody
Standard Diluent
Streptavidin-HRP
Assay Buffer (10×)
Substrate (TMB)
Stop Solution
washing Buffer (20×)
Plate Covers
Describtion
This assay employs the quantitative sandwich enzyme immunoassay technique for the quantitative detection of rat CCL5. The Rat CCL5 ELISA is for research use only. Not for diagnostic or therapeutic procedures.
Chemokine (C-C motif) ligand 5 (CCL5), also known as RANTES, is a chemotactic cytokine. It is chemotactic for T cells, eosinophils, and basophils, and plays an active role in recruiting leukocytes into inflammatory sites. With the help of particular cytokines (i.e., IL-2 and IFN-γ) that are released by T cells, CCL5 also induces the proliferation and activation of certain natural-killer (NK) cells to form CHAK (CC-Chemokine-activated killer) cells. CCL5 is also an HIV-suppressive factor released from CD8+ T cells. Recently, the protein has been engineered for in vivo production by Lactobacillus bacteria, and this solution is being developed into a possible HIV entry-inhibiting topical microbicide.