---
Product Details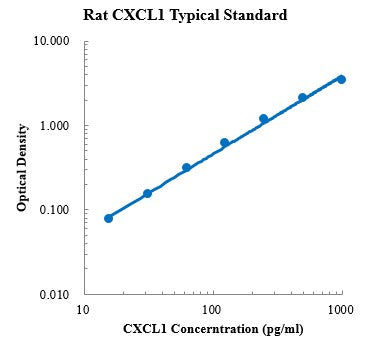 Brand
MultiSciences
CatNum
70-EK396
Product Name
Rat CXCL1/KC ELISA Kit
Customs Name
Rat CXCL1/KC ELISA Kit
Application
ELISA
Reactivity
Rat
Assay Type
Sandwich ELISA
Suitable Sample Type
serum, plasma, cell culture supernates
Format
96-well strip plate
Storage
4℃ (unopened) standard stored at -20℃, others stored at 4℃ (opened)
Shipping Condition
4℃
Sample Volume
20 μl
Sensitivity
0.26 pg/ml
Standard Curve Range
15.63 - 1000 pg/ml
Spike Recovery Range
92 % - 109 %
Mean Spike Recovery
1
CV of Intra plate
3.3 % - 5.4 %
CV of Inter plate
3.5 % - 5.7 %
Components
96-well polystyrene microplate coated with a monoclonal antibody against CXCL1
Rat CXCL1 Standard, lyophilized
CXCL1 Detect Antibody
Standard Diluent
Streptavidin-HRP
Assay Buffer (10×)
Substrate (TMB)
Stop Solution
washing Buffer (20×)
Plate Covers
Describtion
This assay employs the quantitative sandwich enzyme immunoassay technique for the quantitative detection of rat CXCL1. The Rat CXCL1 ELISA is for research use only. Not for diagnostic or therapeutic procedures.
Chemokine (C-X-C motif) ligand 1 (CXCL1), also known as KC or N51, is a small cytokine belonging to the CXC chemokine family. It was originally identified in fibroblasts as a PDGF-induced immediate early gene that encodes a secretory protein of approximately 8 kDa.
CXCL1 is expressed by macrophages, neutrophils and epithelial cells, and has neutrophil chemoattractant activity. CXCL1 plays a role in spinal cord development by inhibiting the migration of oligodendrocyte precursors and is involved in the processes of angiogenesis, inflammation, wound healing, and tumorigenesis. CXCL1 is induced by inflammatory cytokines such as IL-1 and TNF, and IL-17A enhances expression of CXCL1 by prolonging the half-life of its constitutively unstable mRNA. An initial study in mice showed evidence that CXCL1 decreased the severity of multiple sclerosis and may offer a neuro-protective function.