---
Product Details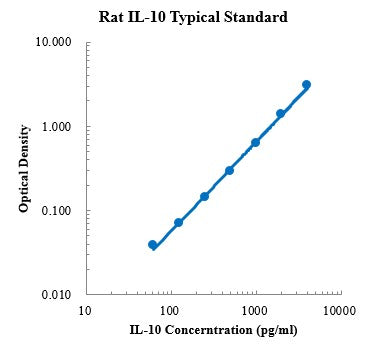 CatNum
70-EK310
Product Name
Rat IL-10 ELISA Kit
Customs Name
Rat IL-10 ELISA Kit
Application
ELISA
Reactivity
Rat
Assay Type
Sandwich ELISA
Suitable Sample Type
serum, plasma, cell culture supernates
Format
96-well strip plate
Storage
4℃ (unopened) standard stored at -20℃, others stored at 4℃ (opened)
Shipping Condition
4℃
Sample Volume
20 μl
Sensitivity
0.48 pg/ml
Standard Curve Range
62.50 - 4000 pg/ml
Spike Recovery Range
86 % - 108 %
Mean Spike Recovery
98%
CV of Intra plate
3.4 % - 5.3 %
CV of Inter plate
4.5 % - 6.1 %
Components
96-well polystyrene microplate coated with a monoclonal antibody against IL-10
Rat IL-10 Standard, lyophilized
IL-10 Detect Antibody
Standard Diluent
Streptavidin-HRP
Assay Buffer (10×)
Substrate (TMB)
Stop Solution
Washing Buffer (20×)
Plate Covers
Describtion
This assay employs the quantitative sandwich enzyme immunoassay technique for the quantitative detection of rat IL-10. The Rat IL-10 ELISA is for research use only. Not for use in therapeutic procedures.
Rat Interleukin 10 (IL-10) cDNA encodes a 178 amino acid (aa) residue precursor protein that contains an 18 aa signal sequence and a 160 aa mature protein. Mature rat IL-10 shares 85% and 74% aa sequence identity with mouse and human IL-10, respectively.
IL-10 is primarily produced by monocytes and, to a lesser extent, lymphocytes, namely type 2 T helper cells (Th2), mastocytes, CD4+ CD25+ Foxp3+ regulatory T cells, and in a certain subset of activated T cells and B cells. IL-10 is a cytokine with multiple, pleiotropic, effects in immunoregulation and inflammation. It downregulates the expression of Th1 cytokines, MHC class II antigens, and co-stimulatory molecules on macrophages. It also enhances B cell survival, proliferation, and antibody production. IL-10 can block NF-κB activity, and is involved in the regulation of the JAK-STAT signaling pathway.
The immunosuppressive properties of IL-10 suggest a possible clinical use of IL-10 in suppressing rejections of grafts after organ transplantations. IL-10 can furthermore exert strong anti-inflammatory activities.