---
Product Details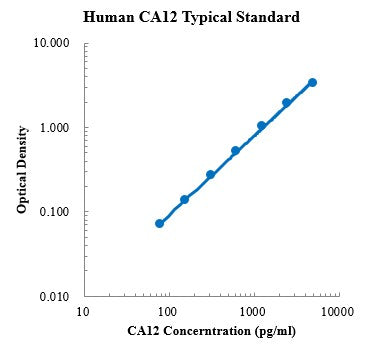 Brand
MultiSciences
CatNum
70-EK1245
Product Name
Human Carbonic Anhydrase XII/CA12 ELISA Kit
Customs Name
Human Carbonic Anhydrase XII/CA12 ELISA Kit
Application
ELISA
Reactivity
Human
Assay Type
Sandwich ELISA
Suitable Sample Type
serum, plasma, cell culture supernates
Format
96-well strip plate
Storage
4℃ (unopened) standard stored at -20℃, others stored at 4℃ (opened)
Shipping Condition
4℃
Sample Volume
50 μl
Sensitivity
1.72 pg/ml
Standard Curve Range
78.13 - 5000 pg/ml
Spike Recovery Range
79 % - 109 %
Mean Spike Recovery
0.93
CV of Intra plate
2.1 % - 2.3 %
CV of Inter plate
2.1 % - 3.7 %
Components
96-well polystyrene microplate coated with a monoclonal antibody against CA12
Human CA12 Standard, lyophilized
CA12 Detect Antibody
Standard Diluent
Assay Buffer (10×)
Substrate (TMB)
Stop Solution
Washing Buffer (20×)
Plate Covers
Describtion
This assay employs the quantitative sandwich enzyme immunoassay technique for the quantitative detection of human CA12. The Human Carbonic Anhydrase XII/CA12 ELISA is for research use only. Not for diagnostic or therapeutic procedures.
Carbonic anhydrases (CAs) are a large family of zinc metalloenzymes that catalyze the reversible hydration of carbon dioxide. They participate in a variety of biological processes, including respiration, calcification, acid-base balance, bone resorption, and the formation of aqueous humor, cerebrospinal fluid, saliva, and gastric acid.
Carbonic anhydrase XII (CA12) is a type I membrane protein that is highly expressed in normal tissues, such as kidney, colon and pancreas, and has been found to be overexpressed in 10% of clear cell renal carcinomas. Two transcript variants encoding different isoforms have been identified for this gene. Mutations in the gene encoding CA12 have been shown to be associated with an autosomal recessive form of hyponatremia due to salt wasting in sweat.