---
Product Details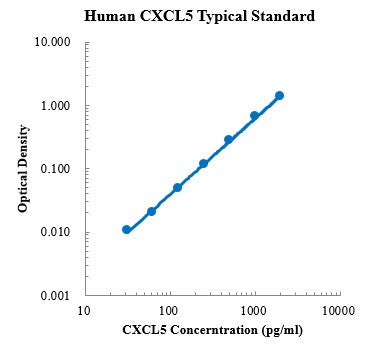 Brand
MultiSciences
CatNum
70-EK1219
Product Name
Human CXCL5/ENA-78 ELISA Kit
Customs Name
Human CXCL5/ENA-78 ELISA Kit
Application
ELISA
Reactivity
Human
Assay Type
Sandwich ELISA
Suitable Sample Type
serum, plasma, cell culture supernates
Format
96-well strip plate
Storage
4℃ (unopened) standard stored at -20℃, others stored at 4℃ (opened)
Shipping Condition
4℃
Sample Volume
10 μl
Sensitivity
13.45 pg/ml
Standard Curve Range
31.25 - 2000 pg/ml
Spike Recovery Range
82 % - 125 %
Mean Spike Recovery
1.01
CV of Intra plate
4.9 % - 6.4 %
CV of Inter plate
2.8 % - 3.9 %
Components
96-well polystyrene microplate coated with a monoclonal antibody against CXCL5
Human CXCL5 Standard, lyophilized
CXCL5 Detect Antibody
Standard Diluent
Streptavidin-HRP
Assay Buffer (10×)
Substrate (TMB)
Stop Solution
Washing Buffer (20×)
Plate Covers
Describtion
This assay employs the quantitative sandwich enzyme immunoassay technique for the quantitative detection of human CXCL5. The Human CXCL5/ENA-78 ELISA is for research use only. Not for diagnostic or therapeutic procedures.
C-X-C motif chemokine 5 (CXCL5), also known as epithelial-derived neutrophil-activating peptide 78 (ENA-78), is a small cytokine belonging to the CXC chemokine family. It is produced following stimulation of cells with the inflammatory cytokines IL-1 or TNF-α. Expression of CXCL5 has also been observed in eosinophils, and can be inhibited with the type II interferon IFN-γ. CXCL5 elicits these effects by interacting with the cell surface chemokine receptor CXCR2. It stimulates the chemotaxis of neutrophils possessing angiogenic properties and has been implicated in connective tissue remodelling. CXCL5 has been also described to regulate neutrophil homeostasis. CXCL5 expression is higher in atherosclerosis (a chronic inflammatory condition) but is not associated with neutrophil infiltration. Instead CXCL5 has a protective role in atherosclerosis by directly controlling macrophage foam cell formation.